About Tompkins Landscaping And Irrigation
| Grounds Maintenance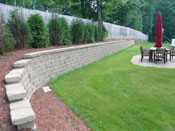 From the day we were founded in 1994, Tompkins Landscape has always emphasized excellence and the desire to be the best in every service we offer. When you hire us you will get the area's best and most well-respected company with years of education, training, and vast experience that cannot be matched or duplicated.  From a large patio, lawn installation,sprinkler system, small garden, or even weekly mowing service, each and every project is given the time and attention to detail it deserves. We welcome you to look at the gallery for a small sampling of work performed through the years and see for yourself what we have done for many other property owners and businesses like you.  A well-designed and maintained landscape adds a tremendous amount of value, curb appeal, and shows a pride in ownership unlike anything else. It is that very notion behind each of our landscape projects, patios, sprinkler systems, or lighting projectswe design. 
When you see a well-designed landscape, you notice that everything works together, offering a balanced view. Overlooking your landscape, from your patio / wall area, to perennial garden, or swimming pool, you should see a thoughtfully designed construction that is neat in appearance and presents you a comforting, soothing place to relax. All too many companies do not take every owner's ideas and goals into consideration when designing a landscape project. Their sole focus is getting work done as cheaply as possible, ultimately resulting in a low quality or rushed-to-finish product that wastes clients' time and money.
You should feel confident that when hiring Tompkins Landscape, we will provide you with excellent service. We can provide you with the names and telephone numbers of past customers who are eager to act as references on our behalf. Our company is fully insured by AAA rated companies. Our workers have all the necessary compensation policies in place. As always, but especially now in these times of economic hardship, property owners must insist on getting a certificate of insurance from any contractor they hire no matter how small or big the job, including both liability and workers compensation. Most property owners' insurance policies do not cover injuries for people hired to work on a property; let this be our concern, not yours.
---
Category- Grounds Maintenance
^ Back to Top