Thursday, February 6, 2014 at 9:56 AM (Eastern)
It's not going anywhere. Unfortunately, for those of us hoping for an early spring, the cold and potentially stormy pattern is here for a while. Bright sunshine will bounce off the freshly fallen snow today making it quite picturesque across the region. Most areas saw 7-12 inches of snow in yesterday's storm with Bristol and southern Plymouth Counties, and Cape Cod receiving 2-6 inches on average. Martha's Vineyard and Nantucket started the storm as snow, but quickly changed to rain.
There was a period of flurries in the early morning hours, so roads and walkways may have some black ice one again. Take care as you head to work or school this morning and don't forget your sunglasses, you'll need them.
It's cold and dry for several days ahead as high pressure builds into the region. At night, under mainly clear skies and increasing amounts of moonlight, temperatures are going to fall into the single number and teens statewide. During the day through Saturday all areas, except extreme southeastern Massachusetts will remain below freezing.
While the sun is certainly getting stronger day by day, the cold is going to last, on average, the entire month. Additionally, the atmosphere is in a state where storms can develop. How much precipitation we receive from these storms will be based on the exact position of the jet stream. Climatologically, February and early March is a period of east coast storminess. While I wish wishcasting worked, I can't avoid the reality of the cold and snowy pattern we're in.
Next few weeks
The map below is one of many pieces of the long range weather forecasting puzzle. What this map shows is the cold pattern which set up in December, will remain locked in place through mid-March. Now before you commit hari-kari, although a month averages cold, it doesn't mean we won't see any warm weather. There should still be several days in the 40s and perhaps 50s over the next 5-6 weeks, but the cold will overwhelm any warming we do see. (damn you groundhog)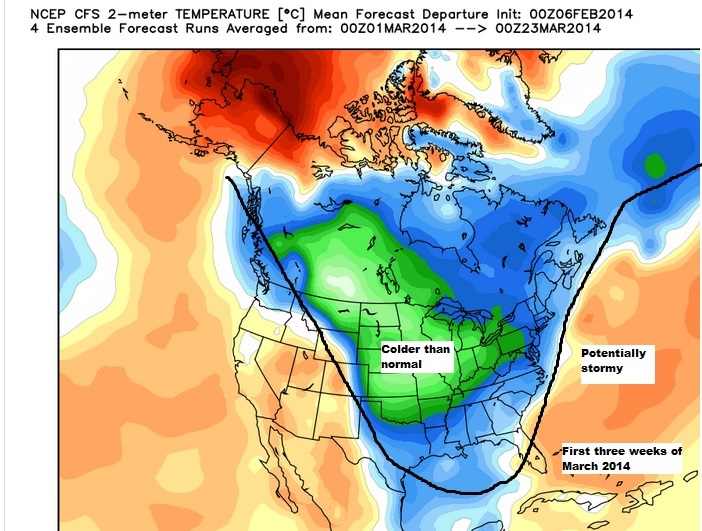 I went back and read my blog from early December this morning. I haven't updated the winter forecast since then. The cold of this winter isn't a surprise to me, nor is the snow so far. However, if we end up beating last year's snow totals in Boston (60+") which is now not unlikely, this would be only the third time since the late 1800's we have seen two significantly above average snow years back to back. With snowfall totals in Boston around 45 inches, we only have around another 15 inches or so to tie and then surpass last year's snow totals.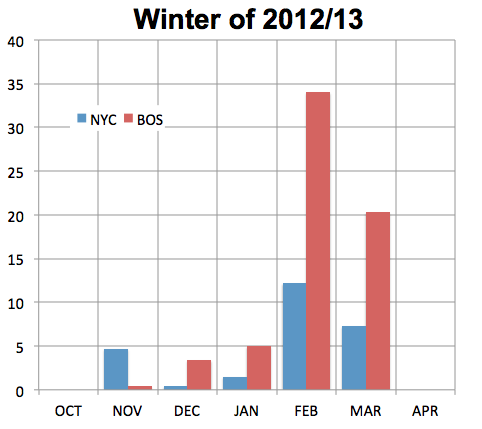 Sunday nor'easter
For Sunday, a storm will develop in the ocean, but most indications are the brunt of the snow stays off the coast. We could see a few periods of snow showers Sunday and early Monday. While a big event is no longer likely, I will continue to be watching for any changes which bring the storm closer to the coast.
More snow?
Next week, a storm threat arrives sometime during the middle to the end of the week. A Friday storm wouldn't be good as it's t

http://www.boston.com/news/weather/weather_wisdom/2014/02/cold_and_potentially_snowy_pat.html
---
^ Back to Top